Hi Honeycoders!
To improve your forum experience, we encourage you to complete your forum profile! You can update your community username and name, upload a profile pic, and add personal details.
NOTE: Please make sure your profile information and details abides by our Community Guidelines.
See below for a tutorial on how to complete your profile:
Step 1: Click on the profile button in the upper right-hand corner of the screen
Step 2: Click on the gear icon
Step 3: Click on 'Preferences' from the dropdown list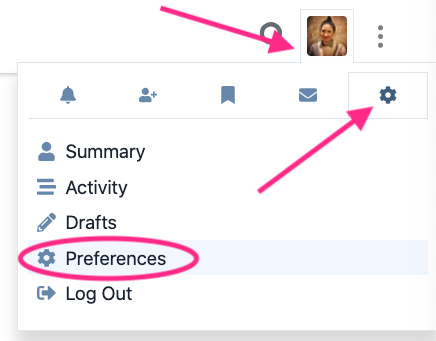 Step 4: From your profile, click on the pencil icon in the grey box
Step 5: In the 'Username' text field, enter in your desired new name. Be sure to avoid anything that a reasonable person would consider abusive, offensive or not safe for work. Also note the username has to be unique
Step 6: When finished, click on the blue 'change' button
Step 7: From the following popup, click on the blue 'Yes' button
Step 8: From the left rail, click on 'Profile'
Step 9: Use the 'Hobbies & Interests' section to highlight your hobbies and interests or maybe your favorite quote. Be sure to use the formatting options to spruce it up!
NOTE: We recommend a maximum of 155 characters with spaces to avoid text being cutoff
Step 10: The next five fields are all optional aside from Timezone, but available to display your general Location, Industry, Company Name, Occupation, and Title. Feel free to provide as much or as little detail as you'd like!
Step 11: Use the Profile Header (1110px) and User Card Background (590px) to personalize the look and feel of your profile card
Step 12: When you're done, click on the blue 'Save Changes' button
Success! You're all set.