Looking for an opportunity to showcase your app and share it with the community? We are excited to introduce Honeycode Spotlight Series to celebrate apps created with the new experience!
Phonesuite creates sales quotes using the Honeycode Expense Reporter template
We are happy to share @Aaro-86e0 's story in this month's Spotlight Series. Aaron Bailey is a Product Manager at Phonesuite, a company that makes phone systems for the hospitality industry. Aaron has been with the company for over 10 years working on the transformation of Phonesuite from a hardware manufacturer into a software-based company. AWS has played a large part in this transformation and his team wants to use more AWS services as they expand their capabilities.
Aaron and his team needed an easy way to obtain budgetary quotes while attending trade shows. They did not want to spend a lot of time or money developing a tool from the ground up, so they turned to Honeycode to craft an app that would allow him to make changes quickly to adapt to his Sales team's needs.
"Our sales team wanted a quick and easy way to provide a budgetary quote while at trade shows. Their big ask, and something our existing quote tool could not do, was a quick and easy way to adjust the monthly costs to be more in line with what the customer was expecting and then be able to show how that affected the upfront costs. I went looking for a way to do this and found Honeycode," says Aaron.
Honeycode offers templates for various business goals such as project tracking, inventory management, and event planning. These templates are pre-built with the functionality you need,—you can customize and share the productivity app with your team in just minutes. For example, The Expense reporter template that Aaron used, includes quote list screen, quote form screen, and automation features. He was able to adjust the look and feel of the template, edit fields, and bring in data. He is also able to set permissions for access, and set notifications to alert him and the team of approvals that need attention.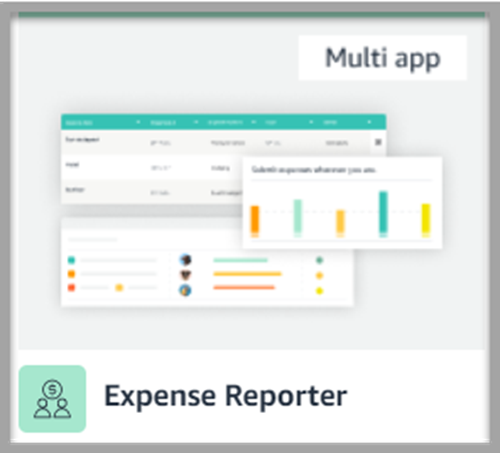 "Using some of the preexisting templates as a guide I was able to get the application built and tested in just a few hours. I look forward to being able to provide our sales team with a simple to use tool that will help them quickly answer our customers questions. "
| | |
| --- | --- |
| -Aaron Bailey, Phonesuite Product Manager | |
Have a story to share?
Do you have a great story to share with the Honeycode community? Simply add your story in the comments below to earn a story teller badge.
We can also feature you in our next Honeycode Spotlight Series post. We are thrilled to learn more about how you use Honeycode and can't wait to highlight your work in the community!
---
Join Honeycode's Community Research Program to test out features and earn a $100 Amazon gift card! Please email us at honeycode-outreach@amazon.com if you're interested. If selected, we'll follow up with details. Read our Privacy Notice.
Want to share this with your friends and team? Click Share at the bottom of the post.
Not yet a Honeycode Customer? Sign up for our free version here.